Cable Bay
Cable Bay or Owhetu, has long been appreciated by tangata whenua, locals and visitors as the quintessential New Zealand beach. It is a beautiful shelly beach with pinkish sand, where the Pohutukawa arch over the State Highway, the gentle waves caress the shore and time stands still.
Owhetu faces north and gets all day sun. There are waves for swimming in, or diving into; surfing on big sea days; rocks to fish off or explore wildlife in, and a blowhole to amaze young children with on a stormy day. It is about 1 kilometre in length and comprises of 5 different bays, we like to think – from toddlers high tide shallow pools, wave and rocks on the main beach and secluded coves and rockpools - something for everyone.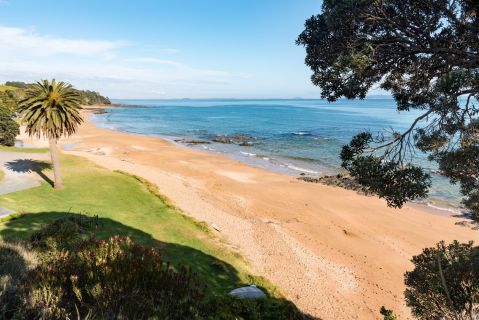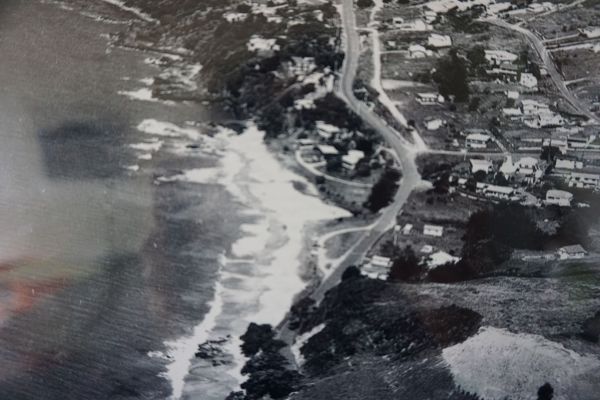 1940s to 1980s
Alan and Mona Matthews purchased the Golden Sand property in the late 1940s.They built a one-bedroom bach on the hill, enjoying many happy summers here
They soon built two units to supplement the pension, and for years ran the Golden Sand Motel. They later sold the now Driftwood section to their daughter Gladys and husband Howard Manning in the 1960s who built their home and the Driftwood Motel.
Rosemary, when the Haines family had a bach on Seaview Road, well remembers Mona donning her bathing cap and swimming with Haidee each day year-round.
Alan would take his 4 oared dinghy out with Dave Archibald and bringing back 80 fish in no time. With no refrigeration, they were very popular with the locals who all turned up for a free feed on their return!
Meanwhile David Archibald Senior and his wife Lily, had a holiday house at the corner of Seaview Road for many years.
Brian and Rosemary
Both Brian and Rosemary (fourth and fifth generation kiwis) grew up in Kaitaia in the 1960s, with Mr Michie's artistic shell house, toheroa gathering at 90 Mile Beach and a 40 minute drive on dirt roads to Cable Bay. Both families had beach baches in Doubtless Bay, at Taipa and Cable Bay and spent long summers there – swimming in the waves at Cable Bay each day, jumping off Taipa Bridge and floating down Taipa River at high tide, fishing, and attempting to surf.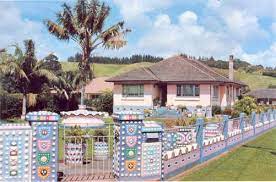 We experienced the Cable Bay Preservation Society Gala days, compared by Howard Manning, with Mrs Posslewaite's afternoon tea tent, Dave Archibald's coconut shy, Bill Haines' greasy pig chases and Miss Cable Bay on the back of a truck. You can see my sister Sylvie Haines' painting of this in the Sunshine Suite!
These families and many others, would swim in the 'massive' waves several times a day, hunt for crabs in the rockpools, experience the blowhole, outdoor cinemas at Taipa, and enjoy massive ice creams from Cable Bay Store!
Current Ownership
Before Rosemary travelled away to get a History degree, she met Brian Archibald, a local stock agent. It was "marry me, marry Kaitaia" which was a bitter pill to take when she was meant to be an ambassador, swanning about the world!
However, she couldn't resist Brian's salesman pitch, and they married and returned to live at Taipa, Kupe's landing place, for 35 years. Here they raised 3 sons and worked hard in Kaitaia businesses. Always at the back of her mind was the thought – why are we working so hard?
Rosemary always had the ambition to make the halcyon days at Cable Bay come back to life with everyone experiencing the magic of Cable Bay; New Zealand.
In 2001, the Golden Sand property came on the market again, because the New Yorker who had put the deposit down, perished or lost his mojo in 9/11 bombings.
After negotiations with the Matthews family, the Archibald family, tiring of overseas investors buying loads of NZ's coastline, bought Golden Sand. It was then two flats, a one bedroom bach and garage/office. This was as much as they could afford in order to preserve a fast disappearing kiwi way of life somewhere.
Golden Sand Reborn
Rosemary wanted the quirky retro feel of the yesteryear apartments to come back to life. She retained the kaikatea floors, original structure but modernised the bathrooms and kitchens to modern standards, attempting to keep the environmental footprint to a minimum.
From about Christmas 2001, the apartments were rented out to holiday makers. and they continued to live at Taipa.
here was a long interval with the Archibalds returning to the "bach" at Cable Bay for lazy summers, sharing the crazy broken down house with friends and family. A few of Mr Michie's 2000 pots were purchased. A local family came every year but one to stay in Phoenix Red.
The Lodge Build
Rosemary rejected 3 architects' concepts before she settled on Pete Bossley's concept, with its wood and durable kiwi materials, artistic touches and sensitivity to the NZ environment and way of life.
In 2014, they moved into the Lodge, and Golden Sand Beachfront Apartments was born. "I feel like a curator of an art work and so privileged to be living here and able to give back to the world, this precious, pristine environment, and keep for generations to come" said Rosemary.
In 2018, the office/garage was renovated and The Beachfront Cabana was added to the inventory. Brian's Atlas Woods surfboard, was used as the bed headboard. Mr Michie's pots were renovated by Sylvie, in keeping with the preservation of a history of the area.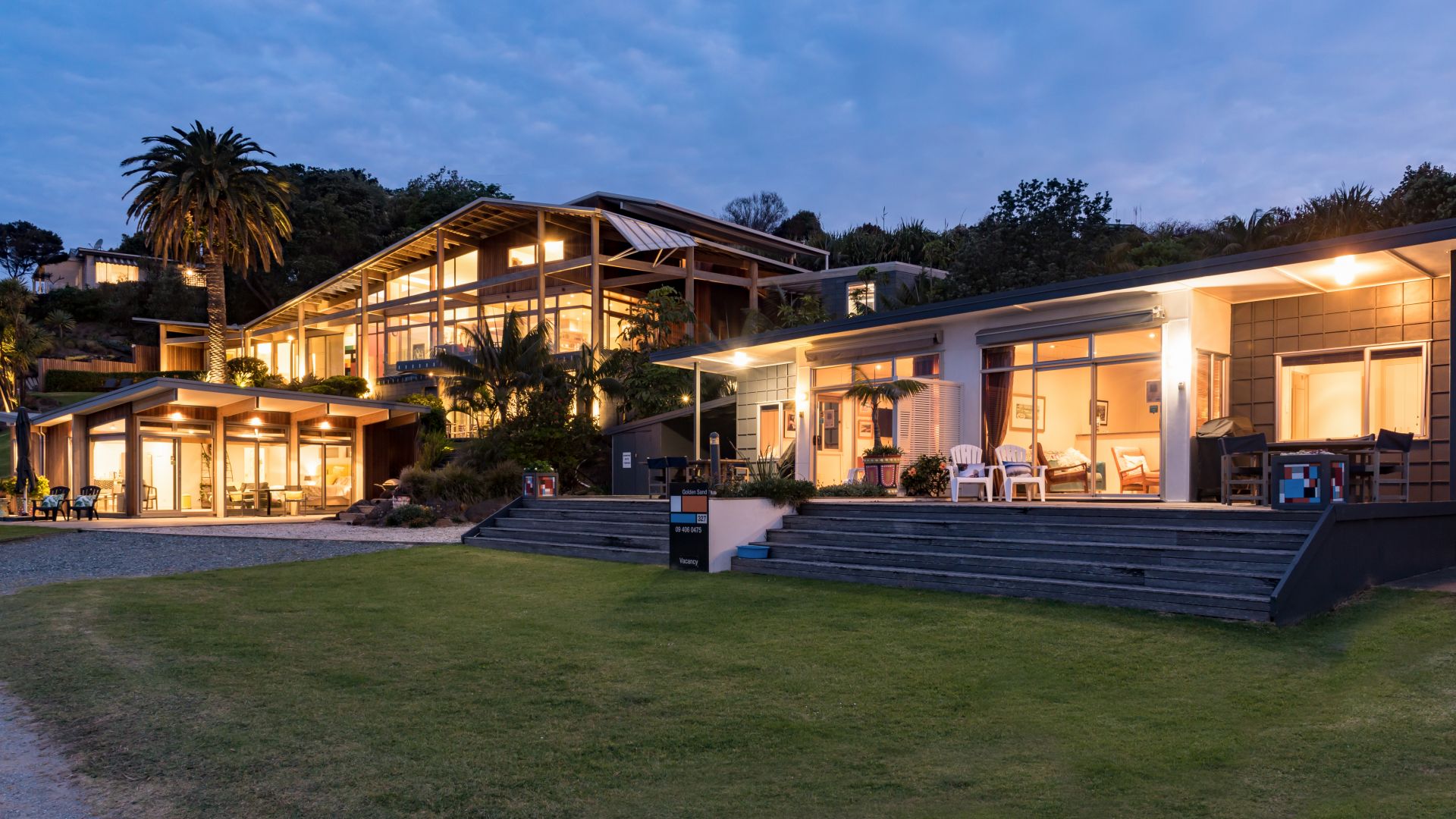 Driftwood Reborn
In 2021 they were able to realise a long held ambition – to purchase the Driftwood Motel next door! Now Rosemary has never been happier, slowly renovating to achieve an affordable beachfront experience for all budgets whilst keeping our environment pristine for future generations.
Renovation of the rooms is underway and you can see we are making ou mark on the accommodation offerings of Doubtless Bay.
One beachfront location, two beach experiences